UNIX Systems Consultant
Brookes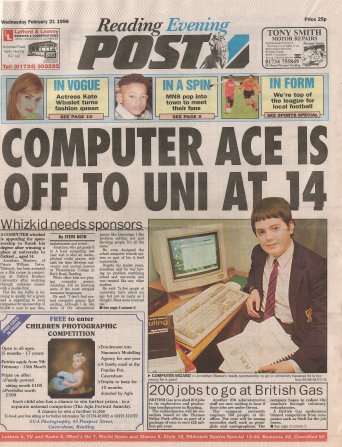 When I was 12 years old, my father suggested that I might enjoy taking Computing A-Level in my spare time. I did the work mostly in evenings, lunchtimes, and at weekends. I got a B grade in the summer following my 13th birthday. Then we began looking around for universities which would accept me as a part time student.
One of the universities which took an interest was Oxford Brookes. Dr. Pon Bala assisted in working out the prerequisites. I took a couple of courses as an associate, in order to meet the University regulations for entry, and passed those with very high first averages. I wrote a coursework at that time on the early trials (which were in Swindon) of the Mondex electronic cash system.
Over the next few years, I attended school while having day release to attend lectures and work on my coursework. I left the University to go to Nottingham in 2000, though I still maintain occasional links with the University and friends that I met while studying there. Perhaps one of the most interesting points raised by this experience is that I am not a typical 23 year old graduate. I knew JaNET when it was much less reliable than it is usually today, and I came in to this before the .com explosion.
I received some newspaper coverage in 1996, featuring on the front page of the local Evening Post newspaper, as well as many nationals (everything from the Daily Express to The Sun and back), and also as a guest on TV and radio programmes. Meridian Tonight followed me around for a day of filming, and the local news carried the story. I was invited to go on to The Big Breakfast and to feature in a Times Editorial, although timing and events precluded that. I later was invited as a guest on a BBC Radio programme which featured myself and representatives from Mensa discussing some recent research in to high intelligence.