[ from the mr-stabby-mr-stabby dept. ]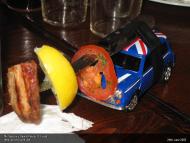 Yesterday I went to Linux User & Developer Expo with Tom and jok. The Expo itself was part of a Networking Show and was quite small at that – but nonetheless it was still quite interesting fun.
Extreme Networks had some funky kit but did not want to give me a free shirt…I got a few bits and freebies but on the whole slim pickings. Alan Cox gave a good talk on the Linux Kernel version 2.6 and some Debian guys spoke for a bit too. SGI had an Altix 3000 which was interesting and I might review a unit. Unfortunately the Sun Microsystems stand was a little bare and the other guys
were notably quite absent on the whole – I hope Linux World 2003 Expo will be a more interesting and fulfilling affair.
After the Expo a group of us headed in to Birmingham city centre and ended up in a Weatherspoon's pub for drinks and food. I met up with some people that I already knew and a few fresh faces – and some interesting fun fotopic.net. Paul had a remote controlled minicar which was driven around the tables and floor before being turned in to Mr. Stabby the Auto-kebab machine.
Jon.