[ from the have-you-updated-your-blog-yet? dept. ]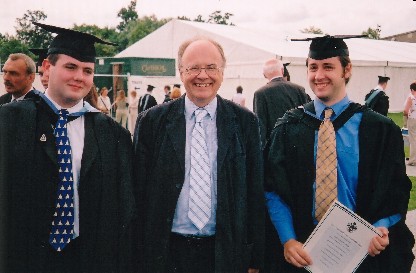 Photo: Jon Masters, David Brailsford, Robin Allen.
Source: Robin and Beckie Allen Graduation Pictures
I have not been updating this diary much recently though there is a good reason for once here. At the moment I am planning to change various jonmasters.org functionality over to a new box and redesign the site using DHTML, XML and CSS2. This will take some time as it is not a high priority.
The Digital System Design with VHDL book arrived today and I have read a few pages. I think this book provides what I wanted – a filler for the material I felt Nottigham CSiT should have covered on their Compsci degree but did not for whatever reasons. I am too demanding perhaps though Southampton seem to have the right idea as this book shows.
I have been reading through the Myri documentation on the Myrinet. Also looking at MPI. The home cluster should be going in over the next few weeks when I am not working – I have decided that I like embedded systems development for the time being.
My room at home has been gutted and now has one of those wooden look floors with two doors and is being painted, kitted out with lighting and new racking for my SPARCstations. I should have an IRIX server installed sometime over the next few weeks if the O2 on offer is sorted. I was offered yet another Origin however I really do not have the room for it given I think there will be more than 30 computers in here soon.
This weekend I am preparing a review on the exim mail transfer agent and looking at an upcoming Tomcat article. I am attempting to cover a broader range of subjects ranging from Web Services through to Embedded Systems. NetBSD is on my radar now as I attempt to become more familiar with it.
Hussein is off abroad while I am working most of the summer but this is inspiring me to look for a holiday in September possibly in the States.
Next weekend I am off to see another friend married and am really looking forward to it Robin. I must go look at their wedding list this week.
My friend Chris might read this at some point in which case I would like to discuss when you are over in the UK during August and feel like a beer?
My provisional driving license has been applied for and I am going to end up paying 600-800 pounds for the pleasure of learning to drive in Reading.
Jon.