[ from the i-got-a-2:1 dept. ]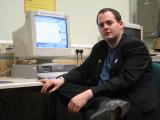 So the degree classifications were released late yesterday afternoon. I got a 2:1 which is what I expected – most of my friends also did quite well so we went out to have Wagamama.
While writing this story I was sitting in the Pope Building on a Sun Blade 100 – yes I actually found a Sun workstation available for general use within the University! w00t!
Jon.