[ from the yes-I-finally-bought-a-digital-camera-hussein dept. ]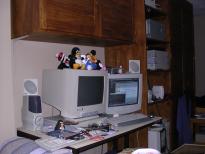 I bought a camera. Jessops had a Nikon Coolpix 3100 for 140GBP and that seemed like a reasonable buy so I picked it up this afternoon. No it does not have every possible feature under the sun but it was not three times the price and does enough to be useful.
I also booked my hotel for FOSDEM 2004.
Jon.