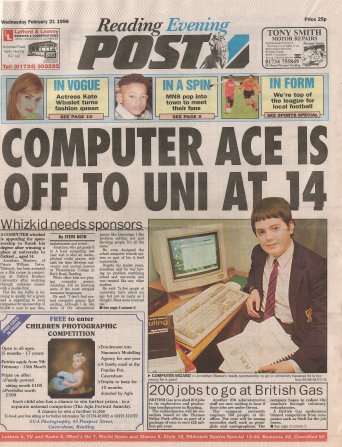 Photo: Reading Evening Post report on my entry to University.
Ten years ago this week, I became student number 95173623 at Oxford Brookes University at the age of 13. I had completed my A-Level in Computing in the summer (and called up the school from holiday in France to find out my result – they made an exception for me and let me know by phone) and my father and I had spoken about taking this to the next logical step and applying to college. Few institutions will take students who are under the age of 18 these days and it was hard enough even at that point – but we did find an open minded institution willing to take me on. I was given an associate membership of the University in September 1995 under the condition that I must pass the two modules I was enrolled for in order to meet the requirements to become a proper student at the University. I took two courses (and wrote a paper on Mondex for one) and got an average somewhere around 80-85 percent, and in January 1996 was enrolled onto the degree.
On or around the 25th of September 1995, I turned up at the University for my first day of "college". I was still a schoolboy, still going to regular lessons when not on day release from the school I was attending. This somewhat bizzare arrangement saw me studying with students a good deal older than myself on one-two days of every week (I usually picked modules which would co-incide with Art or Sports afternoons at school) and cutting my teeth on my first SunOS timesharing system. I would later intern at Comlab and discover Linux in summer of 1996 while writing test harnesses for the Bulk Synchronous Parallel programming libraries (the BSP International project has all but dried up since) and even getting my first long-distance look at a Cray T3D supercomputer when one of the guys let me near a keyboard.
Oxford Brookes represented some fun years in my life. I decided later to quit the University and go and do the "normal" thing by attending Nottingham – something I thought I regretted later but now realise was one of the best things I could have done with myself. I wouldn't exactly recommend others do what I did, but it was quite an experience. The 15 minutes of fame was certainly pretty damn fun – for one day I was in every national newspaper and on TV! Look at the hair in that photo! There's less of it to worry about now.
Jon.